Further reading
First Neuro-MSX installed in Europe
It is with due pride that we can announce the first ever installation in all of Europe of the new Neurosoft Neuro-MSX advanced therapeutic rTMS system! This new rTMS machine has a big color screen, a memory for predefined rTMS protocols, can wirelessly connect to a PC over wifi, and has a maximum pulse frequency in burst mode of 2000 Hz!
We installed the Neurosoft Neuro-MSX advanced therapeutic rTMS system in Hamburg, Germany in combination with our Neural Navigator and our reclining rTMS treatment chair. The user, Dr. Malte Fischer of the Neurologie Neuer Wall, is planning to use the system for the treatment of Major Depressive Disorder as well as other disorders. With the new features of the Neuro-MSX system he'll have easy acces to all stimulation protocols for each disorder. By adding the Neural Navigator to his setup, he's assured himself and his patients of accurate targetting of the required brain regions, and therewith more efficient rTMS treatments.
We wish Dr. Fischer lots of luck with his new system!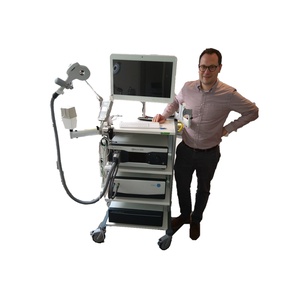 New CEO appointed to strengthen the Board of Brain Science Tools
We are pleased to inform you that the Board of Directors of Brain Science Tools BV has been expanded per April 1st. Dr. Yvonne van Megen, MBA has been added to the Board as the CEO next to the founder Bas Neggers, PhD who will stay in the company as CTO/CSO. Yvonne has a broad experience as an executive director in the Life Science Industry.
"I am honored to have been elected as the Brain Science Tools CEO. It is a privilege to be part of an organisation that delivers high quality services and innovation solutions in neuronavigation in combination with TMS (Transcranial Magnetic Stimulation). We are an organisation with the mission to innovate and improve the application of non-invasive neuromodulation in clinical and research settings, and bring our innovations to market globally. I am committed to help the organisation in making a difference for patients in treatment of depression, stroke and in the near future for other clinical applications."
We are now ready to expand the growth of our business in neuronavigation in combination with TMS and EMG.