Navigated Therapeutic rTMS complete solution
This complete package includes everything you need for precise and efficient navigated rTMS treatments of many disorders. The solution includes a reliable and powerful rTMS machine in combination with the Neural Navigator Essentials system which uses unique electromagnetic tracking in a fully integrated setup for clinical or research use. Furthermore, a comfortable reclining treatment chair and different types of compatible rTMS coils are available. All devices in this solution are CE certified for clinical use in the EU and FDA cleared for clinical use in the USA.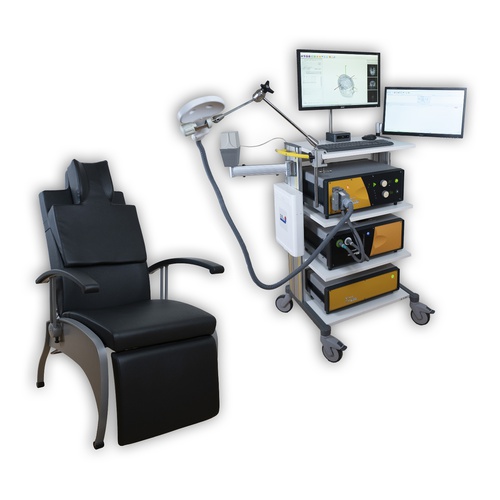 Further reading
rTMS treatment of neuropathic pain
Neuropathic pain is characterized by a distinct set of symptoms, such as a burning sensation and pain resulting from non-painful stimulations. Fibromyalgia, orofacial pain, and phantom pain are different types … Read More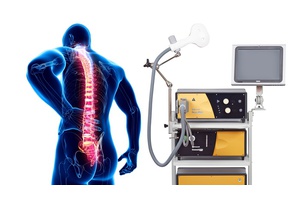 Neurosoft advanced therapeutic rTMS
20 Hz stimulation with 100% intensity
Due to the additional power supply unit, the advanced therapeutic system provides the possibility to increase four times (up to 20 Hz) the maximal effective stimulation frequency (the frequency when each stimulus in series has 100% intensity of motor threshold).
Theta burst stimulation and the 3-minute depression treatment protocol
This powerful machine allows new patterned rTMS protocols such as Theta Burst Stimulation (TBS), intermittent TBS (iTBS) and continues TBS (cTBS) with frequencies up to 100Hz, without overheating due to superior cooling technology. In accordance with the clinical tests performed by leading research hospitals in Canada, in patients with treatment-resistant depression, iTBS was non-inferior to 10 Hz rTMS for the treatment of depression (Blumberger et al 2018). Both treatments had low numbers of dropouts and similar side-effects, safety, and tolerability profiles. With iTBS, the number of patients treated per day with current rTMS devices can be increased several times without compromising clinical effectiveness.
In summary, the 3-minute treatment is as safe and effective for the depression treatment as the conventional rTMS sessions that take more than 20 minutes.
Number of pulses & peak magnetic field
The unit allows continuous operation up to 10.000 pulses without overheating due to the cooling unit and the cooled coils. The peak magnetic field is 4 T, one of the highest values in the industry which supports the therapeutic transcranial magnetic stimulation in most complicated treatments of patients with a very low level of cortex excitability.
Neuro-MS.NET software
This set includes the special Neuro-MS.NET software that allows to customize or to create any stimulation template. This software keeps track of patient databases, detects motor response threshold and controls the stimulation sessions.
The Neural Navigator
Features & performance
Precision: The Neural Navigator can target brain areas indicated on an individual MRI scan with a precision of at least 4 mm (Neggers et al, 2004).
Tracking technology: electromagnetic tracking using highly robust DC pulsed EM tracking (often used in neurosurgical neuronavigation). The precision of the tracking is at least 1mm.
MRI scans needed: straightforward T1 weighted MRI scan at around 1mm cubic resolution.
Formats supported: DICOM import/export, Nifti import/export. fMRI and DTI results from SPM/FSL/AFNI are readable.
Built in robust semi-automatic MRI scan segmentation.
Supports fMRI activation overlays and targeting.
Actual 3D coil models for most Neurosoft coils built into the software.
Delivery set of complete system
Neuro-MS/D main stimulation unit
Neuro-MS/D cooling unit
Neuro-MS/D extra power supply unit
Angulated figure-of-eight cooled coil 100 mm AFEC-02-100-C
Flexible arm for coil positioning
Special trolley with 4 shelves, arm for EM transmitter and arm for 2nd screen, side mount for tracking system and coil arm.
Coil holder , trolley or wall mounted
The Neural Navigator software suite "Essentials"
The BrainTRAK neuronavigation position tracker with 4 tracking sensors and magnetic field transmitter.
Plastic hand-held pointer for measuring facial landmarks and a remote control for navigation.
A sturdy suitcase with compartments fitting all navigator components, allowing easy and safe transportation and storage
A navigation compatible reclining comfortable TMS treatment chair.
Technical and user manuals
NeuroMS software to control TMS equipment from PC
All required cabling

Regulatory
The Neural Navigator and Neuro MS/D rTMS system are CE certified as a class IIa medical device in the European Union and FDA cleared in the USA, Furthermore, all equipment is InMetro and ANVISA certified in Brazil, and TGA certified in Australia. In these regions the entire setup can be used for clinical purposes.
The setup as an electrical medical device is compliant with IEC 606011 3rd edition (Electrical Safety) and IEC 60601-1-2 3rd edition (electromagnetic compatibility) as well as RoHS and WEEE.
You might also be interested in