Navigated TMS PrePlan complete solution
This complete package includes the diagnostic TMS + EMG setup from Neurosoft, the Neural Navigator PrePlan software and tracking unit, and the reclining patient chair. You do not need anything else to start mapping representations of muscles on the motor cortex with navigated TMS to differentiate healthy brain tissue from tumorous tissue. The acquired data can be exported from the Neural Navigator and imported to stereotactic frameless neuronavigation devices for neurosurgeons as DICOM MRI files. The TMS, EMG and navigation solution is a co-development of Neurosoft and Brain Science Tools BV, and integration is seamless. No additional cables or complicated configurations are not needed, this package is complete and can be used directly after installation by our professionals. This complete solution is CE certified for clinical use in the EU. Outside the EU, this solution might be available in the context of a research collaboration. Contact us to discuss the opportunities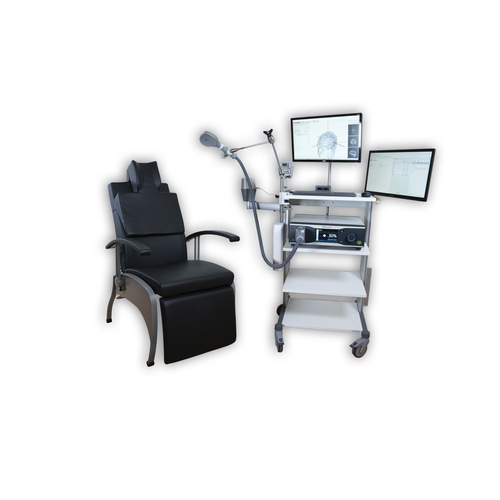 Further reading
Planning glioma resection with MRI-guided neuronavigated Transcranial Magnetic Stimulation
The majority ofl malignant brain tumors are glioma's classified in low-grade ( I and II) or high-grade ( III and IV) (Stieber, 2001). The approximate average survival time for patients … Read More
Neurosoft Neuro-MS monophasic TMS unit
High power monophasic pulse
Thanks to the 2800 V capacitor, the Neuro-MS TMS unit fires more powerful monophasic pulses. It ensures good motor response at low intensities. The peak magnetic field of Neuro-MS/D reaches 4 T, one of the highest values in the industry.
Pulse shape
The shape of the TMS pulse generated by this TMS stimulator is monophasic. Monophasic pulse shapes are better suited for diagnostic application of TMS, as the ensuing motor evoked potential signal is cleaner and easier to interpret.
Delayed charging mode
While working together with digital EMG system a delay for the capacitor charge start is set in the single pulse mode to avoid noise influence from the power supply unit during the acquisition. The range of the delay is 0–9.9 seconds.
Connection to computer via USB port
Neuro-MS/D can be used together with neurophysiological systems made by Neurosoft. Just connect the magnetic stimulator to the computer with installed EMG or EEG software via an USB port.

Neural Navigator PrePlan
Features & performance
Precision: The Neural Navigator can target brain areas indicated on an MRI scan with a precision of at least 4 mm (Neggers et al, 2004).
Tracking technology: electromagnetic tracking using highly robust DC pulsed EM tracking (a technique often used in neurosurgical neuronavigation). Precision better than 1mm.
MRI scans needed: straightforward T1 weighted MRI scan at around 1mm cubic resolution.
Formats supported: DICOM, Nifti. Also supports fMRI activation overlays and targeting.
Built in robust semi-automatic MRI scan segmentation.
Visualizes stimulation locations and evoked MEP amplitude or latency
MEPs can be filtered, thresholded and manipulated in many other ways, and saved to disk to be loaded at a later time point for inspection or further analysis in martlab, python, etc.
Actual 3D coil models for most Neurosoft coils built into the software.
Export of DICOM MRI files for later import to stereotactic frameless neurosurgical neuronavigation systems
Neuro-MEP EMG system
up to 8 channels EMG system optimized to perform quick motor and sensory conduction tests, needle EMG portable, can operate with notebook
All-in-one: stimulators, acquisition channels, controls, display
High acquisition quality: sampling rate – up to 100 kH electrical stimulator with ultra-fast switching between two outputs
Delivery set of complete system
Neurosoft Neuro-MS monophasic TMS unit
Figure-of-eight coil 100 mm FEC-02-100
Flexible arm for coil positioning
Special trolley with 4 shelves, arm for EM transmitter and arm for 2nd screen, side mount for tracking system and coil arm.
Coil holder , trolley or wall mounted
The Neural Navigator software suite "PrePlan"
The BrainTRAK neuronavigation position tracker with 4 tracking sensors and magnetic field transmitter.
Plastic hand-held pointer for measuring facial landmarks and a remote control for navigation.
A sturdy suitcase with compartments fitting all navigator components, allowing easy and safe transportation and storage
A navigation compatible reclining comfortable TMS treatment chair.
Technical and user manuals
Neuro-MEP software to control TMS equipment from PC
All required cabling
You might also be interested in